The Regional Inter-Agency Coordination Platform for Refugees and Migrants from Venezuela (R4V) issued the Refugee and Migrant Needs Analysis (RMNA) for 2023 to provide insights into the situation and varied challenges that refugees and migrants – both in-destination and in-transit – as well as their affected host communities face.
The RMNA draws upon an extensive range of sources, with special emphasis on the inter-agency joint needs assessments (JNA) conducted by R4V partners in various countries. Of particular importance are the primary data collection exercises, led by R4V, which comprehensively assess various sectoral needs. The JNAs embrace a participatory approach and are designed to evaluate the vulnerabilities and needs of refugees and migrants, relying on their first-hand testimonies and recommendations. Additionally, the annual joint needs assessments carried out by National Platforms enable the RMNA to show the development of situations and needs in comparison to previous years.
"The regularization and documentation initiatives implemented in the region are the path to a dignified life for Venezuelan families. The fact that half of Venezuelans in the region are facing barriers to receiving medical healthcare and cannot afford three meals a day or access adequate housing, as the RMNA points out, highlights the urgency of international support, so they have opportunities that allow them to be self-sufficient, effectively integrate into their host communities, and contribute to development of the countries in the region."
Hirasec, Gladys and their daughters moved to Argentina in search of opportunities. Since they were unable to find a job because of their age, they learned bakery. Every day they sell bread in Mendoza's parks.
@R4V/Viviana Murillo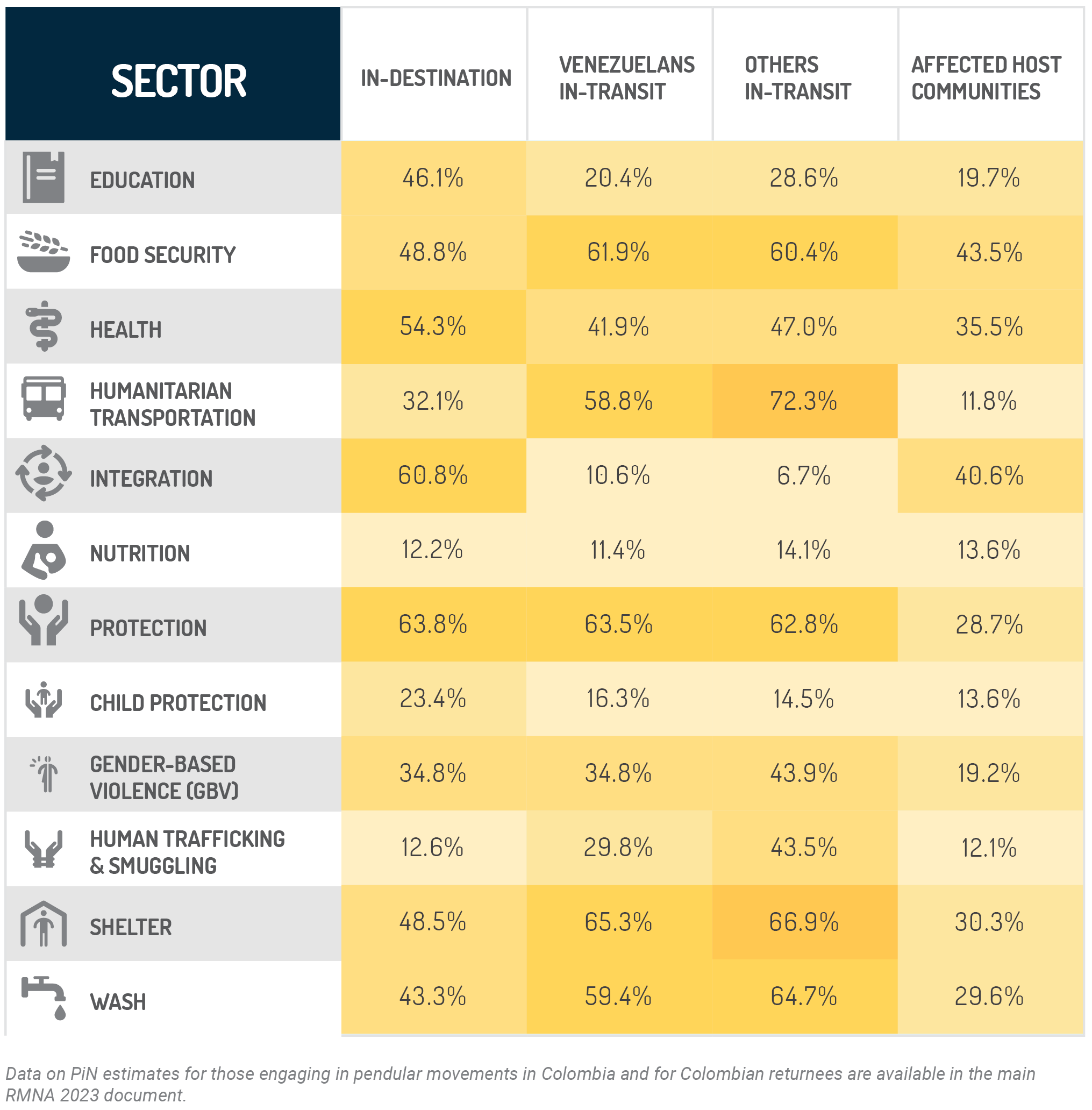 Digna and her family had been sleeping for more than a month on the beach in Necoclí, Colombia, while trying to raise money to cross the Darien jungle.
@NRC/Milena Ayala
Of the reported 7.7 million refugees and migrants from Venezuela who find themselves outside their home country, some 6.5 million (84 per cent) are hosted in countries of Latin America and the Caribbean (LAC). This reflects a modest growth of some 470,000 refugees and migrants in the LAC region since end-2022, and of 530,000 globally, reflecting a decreasing positive growth of around 50 per cent in comparison to outflows of refugees and migrants in the same timeframe in 2022. Their movements, in various directions (including those engaging in return movements to their country of origin) continue to be reflected in regular regional and national reports by the R4V Platform and its partners. 
What do refugees and migrants from Venezuela and their host communities need?
Evolution of the figures in the R4V 17 countries

ONWARD MOVEMENT TOWARDS CENTRAL AND NORTH AMERICA
Daniel and Fiorella fled Venezuela looking for work opportunities and a better future for their children. During their journey, they had a hard time due to the lack of resources and the difficult conditions on the route.
@Save the Children/Hanz Penge
As refugees and migrants continue to face challenges securing livelihoods and integration opportunities and accessing basic needs and services like food, healthcare, education, housing and protection, many decide to move to new host countries. This trend of onward movement, first observed in late 2020, has developed into unprecedentedly intense and multi-directional movement dynamics, with more refugees and migrants now heading in a northward direction, towards Central and North America.
Despite an initial drop in irregular in-transit movements in the second quarter of 2023, following the expiry of the U.S. Title 42 public health order on 12 May 2023, mixed movements in July and August through Central America continue to increase. By the end of August 2023, over 333,700 refugees and migrants had crossed irregularly from Colombia to Panama (more than 60 per cent of them Venezuelans). This number is three times higher than the number of persons having crossed the Darien compared to the same timeframe in 2022.
The human tragedy, situation and related needs of affected refugees and migrants who engage in these movements, including in Mexico, are captured in the RMNA.
María made the difficult decision to cross the Darien jungle, in Panama, with her daughter.
@IOM/Gema Cortés
Refugees and migrants need a new place to call home. The inability to continue their lives free from violence, to meet their basic needs, or to raise their children in conditions of dignity in their countries of origin is what drives them to leave and seek new destinations.
It is important to recall the push factors which still drive new departures from Venezuela when considering the extremes to which refugees and migrants will go to reach other territories across the region. Were home a more welcoming place, the challenges and risks that await them elsewhere would not appear to be a better option. This equally applies to onward movements: if refugees and migrants were able to integrate themselves in conditions of dignity and safety in a host country, this would reduce the need to uproot themselves and look for home a second, third or fourth time.
Yet, in 2023, five years after the launch of the first joint response plan for refugees and migrants from Venezuela, many of these more than 6.5 million refugees and migrants in the region are still – or again – looking for home. They are traveling farther afield to do so, reaching the northernmost and southernmost tips of the Americas, and the islands of the Caribbean, in the process.
Along the way, they encounter measures imposed by governments to discourage their entry, which, given their ongoing need – not desire – to access other territories, drives the growing business of smuggling and human trafficking networks, who reap the financial rewards of refugees' and migrants' desperation and the growing gap between what they need, and what is legally possible for them to obtain in terms of access to territory.
Thus, many refugees and migrants in-transit have needs that arise from the risks they face to their safety, dignity, and rights along the irregular routes they increasingly have to take, which are directly related to barriers imposed by governments to deter their regular access. Their needs include protection from various forms of violence (sexual, physical, financial) which they experience at the hands of the smugglers they must pay, and the criminal groups that control these routes. They also need food, water and hygiene services, shelter and safe transportation.
Meanwhile, in countries of destination, when refugees and migrants are asked to prioritize their needs, they often list food security first, and income/employment second or third, reflecting that they would be able to escape dependency on humanitarian assistance if they could find decent-paying jobs. Adequate shelter/housing is another top-three need of refugees and migrants in-destination, many of whom live in overcrowded conditions, with inadequate infrastructure and limited sanitation and hygiene facilities, and in insecure neighborhoods, where they are exposed to natural and man-made hazards. They also face barriers accessing healthcare and education.
Finally, with more than one in three refugees and migrants in an irregular situation across the region, the need for regular status in host countries – including through either access to asylum and/or migratory regularization procedures – is often a cross-cutting protection need, which is required to have the security to rebuild their lives and integrate locally, without being exposed to the many risks that are linked to irregular status, including detention and deportation.
Nirma and her family live in a small community on Guyana's border with Venezuela, along with 20 other Venezuelan Warao families. They sleep in hammocks in roofed structures without walls.
@IOM/Gema Cortés
This Refugee and Migrant Needs Analysis (RMNA) draws on joint multi-stakeholder and inter-sectoral needs assessments and analysis conducted in all National/Sub-regional R4V Platforms to provide updated and comprehensive information on the current situation and needs of all population groups under the R4V response, namely: i) refugees and migrants in-destination (Venezuelan nationals); ii) refugees and migrants in-transit (Venezuelans and other nationals); iii) refugees and migrants engaging in pendular movements (along the border with Venezuela); iv) Colombian returnees; and v) affected host communities. Moreover, the RMNA also includes information on the percentage of people in-need (PiN) for each of the above population groups (where applicable) to facilitate more accurate and targeted activity planning by R4V partners.
Type and number of data sources used by National/Sub-regional Platforms to calculate People in-Need (PiN)